Private Debt - Sustainable


Fund Portrait
Prime Alternative Finance (PRALTF) invests in a diversified portfolio consisting of rural, commercial and industrial loans, leases and finance agreements in the United Kingdom. The majority of lending activity will be project finance (typically renewable energy and waste to energy infrastructure but may also include specialist machinery, equipment and vehicles) and secured on assets including land, buildings, personal guarantees and sometimes government support incentives. All financing within the Fund is procured and administered by Privilege, a dedicated UK based, licensed 'Finance Arranger' which was established more than 20 years ago, employs almost 60 people and has originated more than GBP 1 billion worth of transactions. Prime targets a return of 5-7% with very low volatility and has a range of currency hedged share classes transforming this stable return pattern from GBP into other currencies like EUR and CHF. 
Prime has currently activated its gating mechanism, which is under monthly review.
Please refer to the section Publications for more details.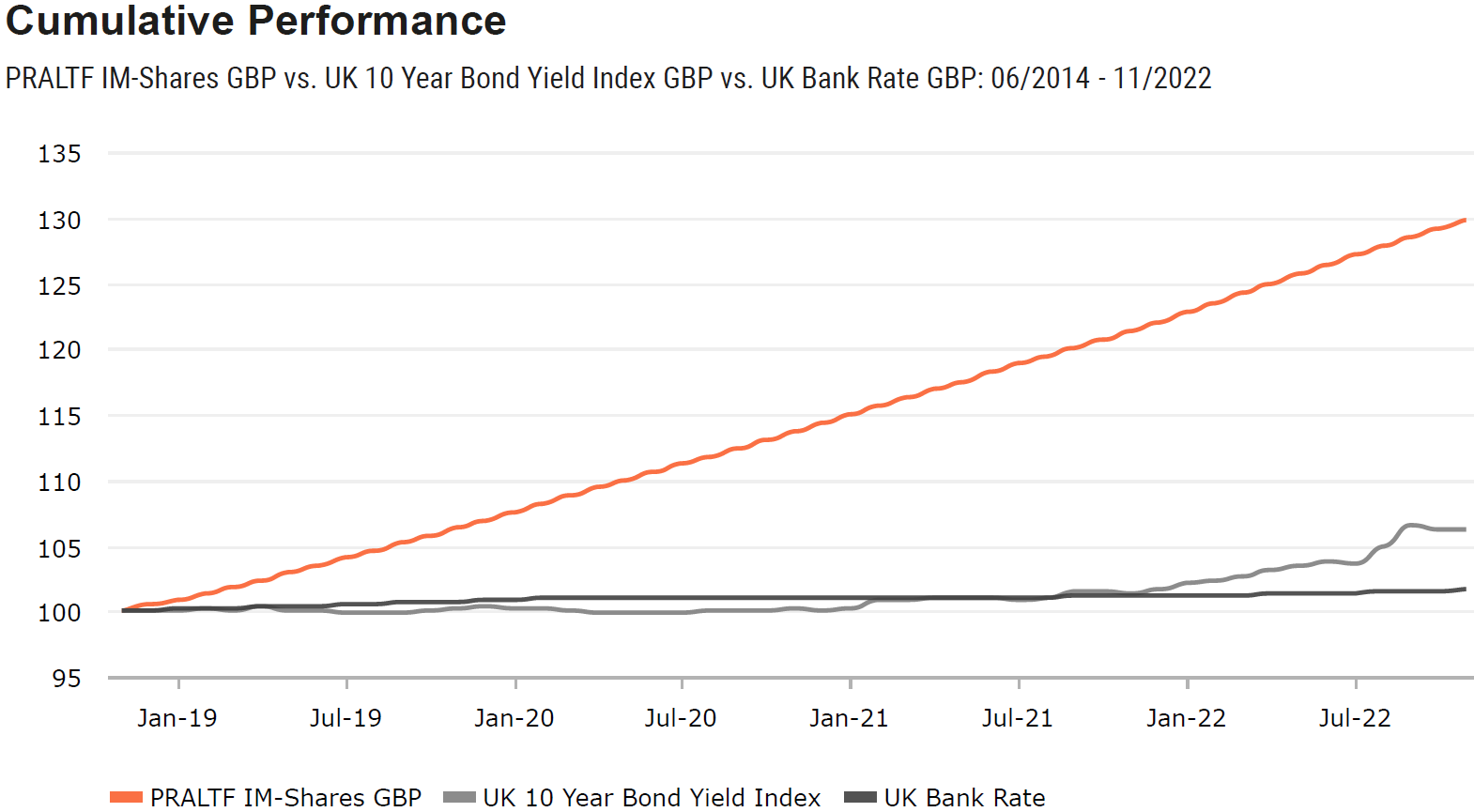 | | |
| --- | --- |
| INVESTMENT MANAGER | Prestige Capital Management Limited |
| FINANCE ARRANGER | Privilege Finance |
| FUND | Prime Alternative Finance |
| TYPE STRUCTURE | EU SICAV-SIF (Open Ended) (AIFMD COMPLIANT) |
| DOMICILE | Luxembourg |
| LAUNCH DATE | Advisory: January, 2019 / Institutional: December, 2018 |
| DISTRIBUTOR SWITZERLAND | OpenFunds Investment Services AG (Switzerland) |
| AUDITOR | KPMG (Luxembourg) |
| CUSTODIAN | Mitsubishi UFJ Investor Services & Banking (Luxembourg) SA |
| REGULATOR | Commission de Surveillance du Secteur Financier, Luxembourg (CSSF) |
| PAYING AGENT SWISS | Società Bancaria Ticinese SA (Switzerland) |
| GEOGRAPHY | United Kingdom |
| STRATEGY | Waste to Energy - Asset & Project Based Lending |
| SHARE_CLASSES | Institutional and Advisory, Accumulating and Distributing |
| CURRENCY | GBP, USD, EUR, CHF, SEK |
| INITIAL CHARGES | 0% |
| MINIMUM SUBSCRIPTIONS | Institutional: EUR 1'000'000 (or currency equivalent) / Advisory: EUR 125,000 (or currency equivalent) |
| LIQUIDITY | Up to USD 2 million (or currency equivalent) monthly on 90 days' notice on a best effort basis. Amounts greater than this are by prior arrangement |
| MANAGEMENT FEE | Institutional: 1.50% p.a. / Retail: 1.50% p.a. |
| PERFORMANCE FEE | no performance fee |
| FUND SIZE | USD 263 m |
| MANAGER TRACK RECORD | Since 2011 |
| ISIN | Please refer to the factsheets |
| BLOOMBERG CODE | Please refer to the factsheets |
Craig Reeves Prestige Group ESG AWARENESS 2022
Craig Reeves Board Director and Founder Prestige Group Private Market
Dominique Becht CIO Stiftung Abendrot and Craig Reeves founder and CEO of the Prestige group